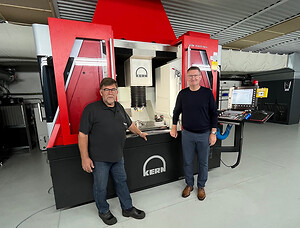 Flow plates take a central part of fuel cells which convert hydrogen into electric power that again can be used for different applications, also known as Power-To-X.
The new manufacturing concept would be able to make a flow plate every minute and represent an efficiency improvement of approx. 90%. Such innovation is needed to make green energy a realistic and cost-effective alternative to existing black sources.
A key element of the method is to form the plates of compound materials, and the precision of the forming tool is one of several critical success factors. Alsform Værktøjsfabrik has invested in three special high-speed milling machines and established a strong expertise in manufacturing such forming tools with extreme requirements for precision and surface quality.
The new green technology solution is a potential game-changer in the market.
"We have gone from standing on the sidelines to being in the game. The other players take us into account when they need green solutions," says Erik Lund, managing director at STRECON.
Read more about the innovation project FuelCellManufacturing here (The article is in Danish).
__________________________
STRECON A/S is a leading developer and manufacturer of stripwound, high-strength tools, and machine solutions for various industrial purposes. In recent years, STRECON has taken a leading position in the development and manufacturing of a robot machine system for the high-precision polishing of forms and tools for many different industries. The third main area is the development and manufacture of special industrial equipment solutions for individual customers.
Read more about STRECON at www.strecon.com